I'm the guy that shows up at the group ride with the old bike. I've never had the newest and coolest, and may never have.
My road bike is based around a 1995 Cannondale 2.8 frame, 56 cm, which may be a touch too big. The last remaining OEM specified parts are the rear hub, front wheel, right shifter, and crankset minus the chainrings.
I had to have the rear wheel rebuilt when I wrecked in 2004. The sideways forces on the old rim warped it out beyond any help a spoke wrench and truing stand could fix. I also aquired a set of 32 spoke Shimano 600 hubs that I had laced to a set of Mavic Open Pro rims. Yes, I still run 7-speed.
The original RSX derailluers wore out. The rear had so much play when it was replaced, it wouldn't hold the chain in on the cog. I replaced both with Shimano 105 (5600) that shifts so crisp I felt I had a new bike.
I replaced the original 26/36/46 chainrings with a bodged together 36/50 on the original triple spider. I shift it with a triple front derailluer. The left shifter was replaced before this modification with a Shimano Tiagra (4500) after I my blood sugar crashed, then I crashed into a ditch. The old RSX shifter wouldn't move after that. The right/rear shifter is the original OEM RSX brifter.
I replaced the brakes with a Shimano Ultegra set (6600) that the local shop had on sale.
Like most riders, I've put my own favorite saddle on it, a Terry somethingorother for men. A set of 44cm handlebars with Specialized Bar Phat tape and Specialized secondary brake levers. The fork is a Nashbar carbon fiber fork that has a 1″ threaded steerer tube with a Nashbar 1″ threaded to 1 1/8″ treadless stem adapter to an 11-81 stem.
My pedal of choice is an older set of Look ARC pedals, not the new Keo models. There is a Planet Bike computer and a Serfas headlight. A Topeak seatbag with a PB taillight sit under the seat with a Topeak Road Morph pump under the top tube.
Tires are Michelins on the RSX/CXP-23 wheels, Ritcheys on the 600/Open Pros.
I take good care of it and have done most of the work on it, the main exception is the wheel building I had done. It rides well enough, shifts crisply, and is genuinely mine.
Latest and not the best pic of my bike in the repair stand just after I prepped it for this spring.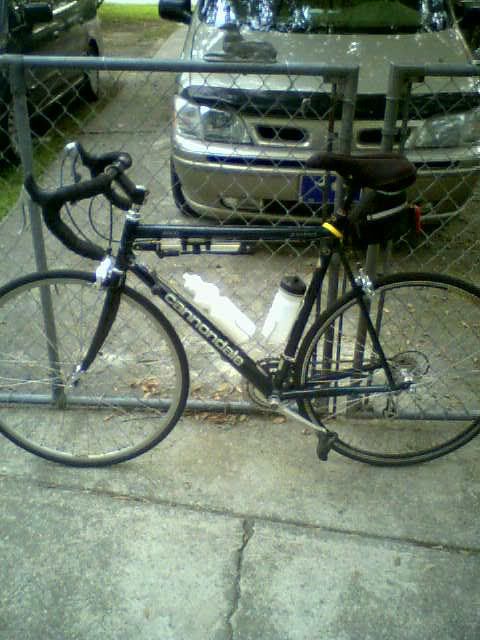 Older pic from the wrong side that is a good repsentation of it looks like now.  I did use a downtube shifter for the front for a time after the RSX brifter broke and before I got the Tiagra brifter.